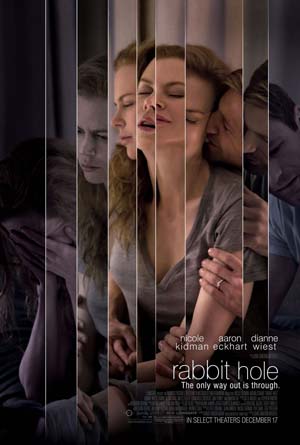 Reviewed By
Mr. Movie: C+
Mr. Film: B+
Listen
12/20/10 -
Tron: Legacy, How Do You Know, Rabbit Hole
Podcast: Play in new window | Download
Quotes
"To naturalistic... good exploration of the facets of loss, but no message or theme to tie it all together."
—Mr. Movie
"A small, quiet picture that's tackling a big subject in a way that's surprising, heartfelt and even a little uncomfortable at times."
—Mr. Film
Release Date
December 17, 2010
Running Time
1 hour 31 minutes
MPAA Rating
PG-13
for mature thematic material, some drug use and language.