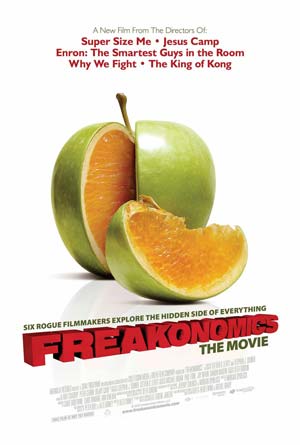 Reviewed By
Mr. Movie: C
Mr. Film: B-
Listen
10/4/10 -
The Social Network, Freakonomics
Podcast: Play in new window | Download
Quotes
"It doesn't really work and it doesn't really prove its theme... [The movie] comes across as a bunch of know it alls that leaves the audience with a sense of not being able to know much about anything."
—Mr. Movie
"Fundmentally, this is just economics presented as pop psychology and stand-up... I enjoyed the show but I can't say I really learned much from it."
—Mr. Film
Release Date
October 1, 2010
Running Time
1 hour 33 minutes
MPAA Rating
PG-13
for elements of violence, sexuality/nudity, drugs and brief strong language.