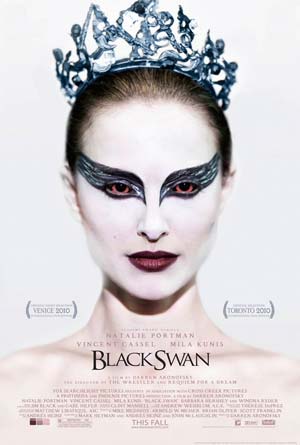 Reviewed By
Mr. Movie: A-
Mr. Film: B
Listen
2/22/11 -
83rd Annual Academy Awards Preview
Podcast: Play in new window | Download
1/13/11 -
Best Movies and Films of 2010
Podcast: Play in new window | Download
12/7/10 -
Black Swan, I Love You Phillip Morris
Podcast: Play in new window | Download
Quotes
"A near perfect conducted ballet of a motion picture: from the directing to the acting to the special effects, the cinematography, the choreography, the score, the storytelling, all these elements dance in perfect symphonic unison to present one hell of a psychological ride."
—Mr. Movie
"I did not love Black Swan--I liked it well enough--but there is a sense of passion missing."
—Mr. Film
Release Date
December 3, 2010
Running Time
1 hour 47 minutes
MPAA Rating
R
for strong sexual content, disturbing violent images, language and some drug use.